Create a service check and check "Disable polling and alerting". I still receive alerts and apperently the check is still being checked.
If i then check the "Ignore alert tag" I also still get alerts.
I do not understand why nothing is (apparently) happening when clicking either of the two.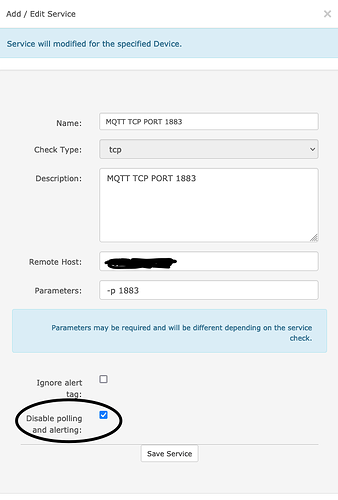 ====================================
Component | Version
--------- | -------
LibreNMS  | 21.11.0-7-g7e98e0333
DB Schema | 2021_11_12_123037_change_cpwVcID_to_unsignedInteger (225)
PHP       | 7.4.3
Python    | 3.8.10
MySQL     | 10.3.31-MariaDB-0ubuntu0.20.04.1
RRDTool   | 1.7.2
SNMP      | NET-SNMP 5.8
====================================

[OK]    Composer Version: 2.1.12
[OK]    Dependencies up-to-date.
[OK]    Database connection successful
[OK]    Database schema correct