So apparently about 3 weeks ago my email alerting stopped working and I didn't notice until a co-worker pointed it out today (MS Teams is working fine so I hadn't noticed). I verified that the settings were all correct and they haven't changed since I set them years ago: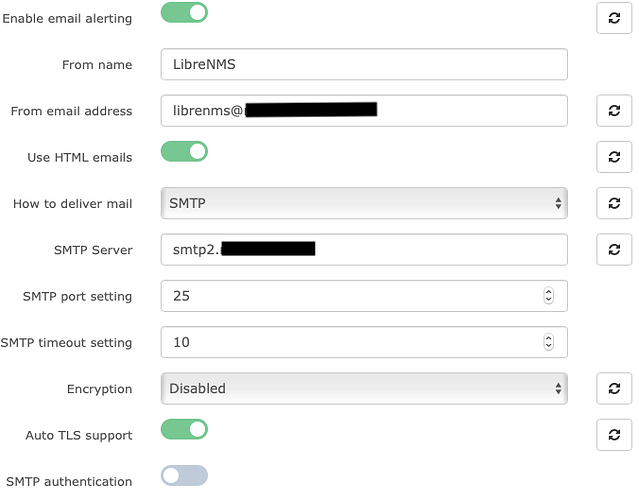 Then I went into alerts and am getting the following error:

I know that the host is working and available as that is our mail relay that we use for all of our internal applications and nothing else is having any trouble. I did try changing to a couple of different CNames for that server as well the IP address just in case it was some flavor of DNS issue.
I went looking for any logging to see if I could debug it for myself but I'm not seeing any sort of email transport logs and the event log is basically showing the same error:
Could not issue warning alert for rule 'Device rebooted' to transport 'mail' Error: SMTP Error: Could not connect to SMTP host.

Ran the daily.sh script to make sure I was up to the latest codebase and not getting any errors and that looks good as well:
librenms@pilibrenms01 ~ $ ./daily.sh
Updating to latest codebase OK
Updating Composer packages OK
Updated from b47d1dd to 67169bf OK
Updating SQL-Schema OK
Updating submodules OK
Cleaning up DB OK
Fetching notifications OK
Caching PeeringDB data OK
Any thoughts as to what might be going on or where I can look to check?