Since yesterday, devices with a large number of ports (e.g. large switch stacks, Cisco VSS, Cisco FEX) are failing to draw the Total Device Traffic graph that appears on the device overview page. This happens for a variety of device and OS types.
Everything looks good in validate.php, LibreNMS code is up to date, no errors are seen when running the rrdtool command from the CLI (it outputs what other threads have lead me to believe is the graph image). There is no indication of any errors when viewing the RRD Tool Output in the web UI. I've also restarted rrdcached, httpd, mariadb and the entire server but no difference.
Any help is appreciated. These graphs are handy. Thanks!
====================================
Component | Version
--------- | -------
LibreNMS  | 21.4.0-62-ge40e1069d
DB Schema | 2021_04_08_151101_add_foreign_keys_to_port_group_port_table (208)
PHP       | 7.3.20
Python    | 3.6.8
MySQL     | 10.3.27-MariaDB
RRDTool   | 1.7.0
SNMP      | NET-SNMP 5.8
====================================

[OK]    Composer Version: 2.0.11
[OK]    Dependencies up-to-date.
[OK]    Database connection successful
[OK]    Database schema correct

Device overview page: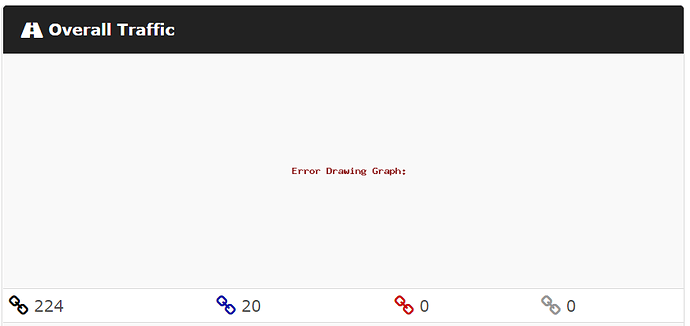 Clicking the Total Device Traffic graph then show RRD Command output at the bottom, no errors: