Hi Community,
I hope you can help with an issue I have encountered.
I have created a new transport in LibreNMS to notify a Xymon server. The transport has its own Template to match the syntax needed to being used with the Xymon client. This has been tested and works fine.
There's just one issue, namely that the transport is not being called by LibreNMS as regularly as it should be. I wrote a wrapper script to log every time the alert has been triggered and it just happens to sometimes randomly not triggering for some checks. (LibreNMS is set to use 1-Minute-Polling.)
Xymon requires an update on the status at least every 30 minutes, otherwise it changes the state of the check to UNKNOWN (purple color in the screenshot).
Here some more data:
The settings used for the regular OK update: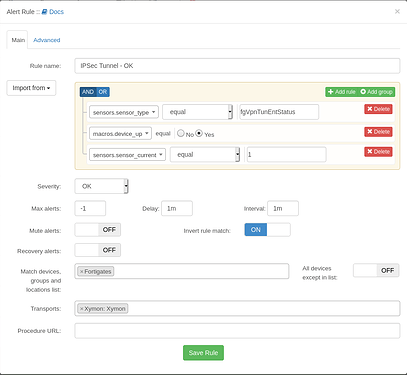 The settings for Critical is the same, just with severity CRITICAL and the sensor not equal 2.
(Could not attach a second screenshot as I am a new user.)
The output of validate.php has been omitted as it does not show anything out of the ordinary.
Does anyone have any idea why LibreNMS does not trigger the Alert regularly as expected?
Thanks in advance!