When viewing a graph, we have the option of selecting a 'from' and 'to' date, to view the graph for the timeframe we want. However, when choosing a custom to date, the result always reverts to the current date / time.
For example, if I set the from / to time like this for this graph: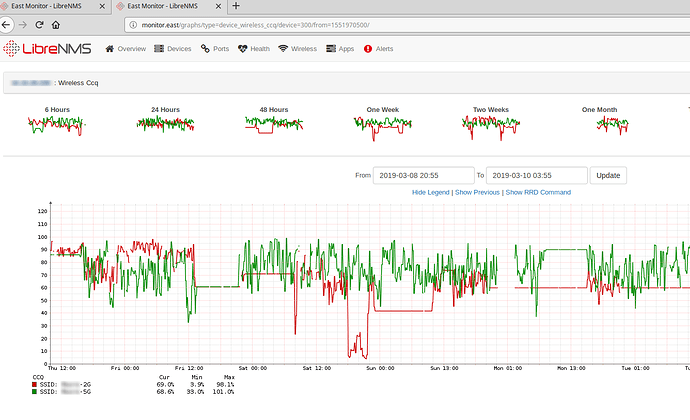 It will return this:
[moved to new post]
The from date / time appears to work as expected.
I can manually add the epoch seconds to the URL at the end of the string, but not ideal. This has been happening for months at least, so not limited to a recent update. It's been happening on all of our Ubuntu 16.04 monitoring servers, but appears to be working correctly on our Ubuntu 18.04 server.
Here's the output from validate.php, and all affected servers return the same:
====================================
Component | Version
--------- | -------
LibreNMS  | 1.49-54-g3905423
DB Schema | 2019_02_10_220000_add_dates_to_fdb (132)
PHP       | 7.2.15-1+ubuntu16.04.1+deb.sury.org+1
MySQL     | 5.7.25-0ubuntu0.16.04.2
RRDTool   | 1.5.5
SNMP      | NET-SNMP 5.7.3
====================================

[OK]    Composer Version: 1.8.4
[OK]    Dependencies up-to-date.
[OK]    Database connection successful
[OK]    Database schema correct

Any suggestions would be appreciated.