I have multiple Cyberpower UPS units (OR1000LCDRM1U) with the SNMP network card in them. It is the model RMCARD205
LibreNMS shows the units fine, but the "Current" value that it shows is off by a power of 10.
This is what I see in the UPS for the Current value (It only has 1 Juniper EX4300-P switch plugged into it), and then this is what LibreNMS shows me.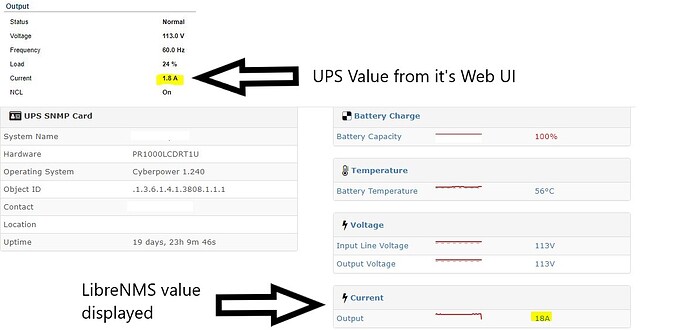 I was able to edit the cyberpower.yaml file in /opt/librenms/includes/definitions/discovery to have the divisor value under the current area and it did show the proper value in LibreNMS after that. But once I modify that file it will then fail the validate and daily since I modified the file. I am guessing the only way I will not fail the update and validate is if these changes are made in github somehow? What is the proper process to request that change other than posting here?