Hi all,
I have a D-link DGS-1210-24 and it is showing as a generic device in LibreNMS. LibreNMS is installed in a Debian 10 container on ProxMox, however I have seen similar behavior in the downloaded VM and intermittently when I was running LibreNMS on a Raspberry PI 2 (slow, but functional).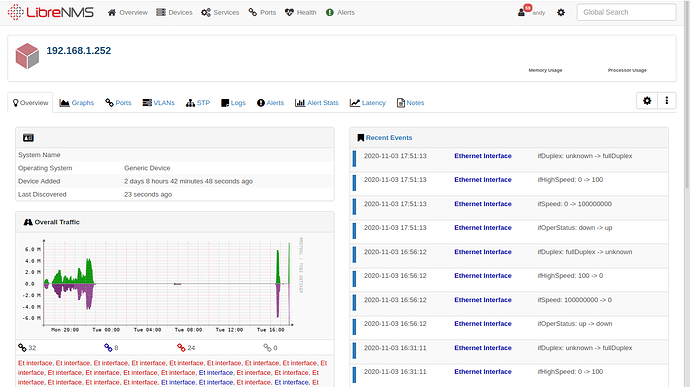 I have tried removing and re-adding the switch to LibreNMS (which temporarily showed the D-link logo). I have also tried a manual 'git pull' in the /opt/librenms folder and a manual ./daily.sh. The issue remains.
I have rediscovered the device several times and this has not solved the issue. I have noticed on systems where it has worked that the device has become "Generic" after a rediscovery.
I also have a DGS-1210-10P and it is displayed correctly and also with the correct logo. No POE statistics are displayed for it, however this is understandable considering that only maximum POE is reported. I created a custom OID for this (iso.3.6.1.2.1.105.1.3.1.1.4.1).
What else can I try?
I've tried Observium in the past and the device was displayed correctly in there, however I would prefer not to use Observium for obvious reasons.