Hello,
I started using LibreNMS this year, I currently have 116 devices being monitored on LibreNMS, I recently noticed that some trunk ports on huawei switch are not being recognized by LibreNMS, so far I haven't been able to resolve it, and I haven't found anything in the community.
The switches are all with VRP 5.170 (V200R019C10SPC500) [V200R019SPH029].
Eth-Trunk that LibreNMS is not recognizing.
S6720-30L-HI-24S <> S6720-50L-HI-48S 20 Gbps
S6730-H24X6C <> S6730-H24X6C 60 Gbps
S6730-H24X6C <> S6720-30C-EI-24S-DC 20 Gbps
S6730-H24X6C <> S6720-50L-HI-48S 40 Gbbps
S6730-H48X6C <> S6730-H24X6C 200 Gbps
S6730-H48X6C <> S6730-H24X6C 60 Gbps
S6730-H48X6C <> S6720-54C-EI-48S-AC 20 Gbps
S6730-H48X6C <> S5720-36C-EI-28S-DC 20 Gbps
S6730-H48X6C <> S6720-30L-HI-24S 50 Gbps
S5732-H24S6Q <> S6720-30C-EI-24S-DC 20 Gbps
S5732-H24S6Q <> S6720-54C-EI-48S-AC 20 Gbps
config.php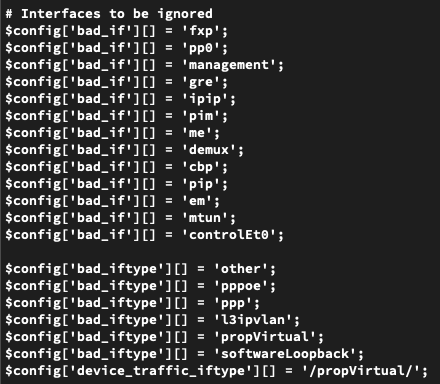 ./validate.php