Hello, I am new on Librenms and I would like to ask for some help regarding devices up/down alerts due to icmp. In my case, we have a network of up to 2000 devices, and I am trying to setup an alert to only trigger when a device is down due to icmp reasons.
To summarize it, I will expose an example of one of multiple icmp alerts performed. This one is concerning devices located in 10.60.11.0/24.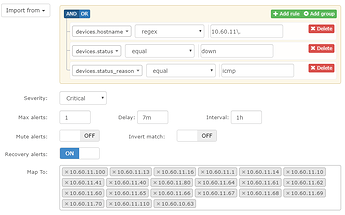 As we can see, in this sub-network we have 21 devices to check. In addition, I just want to receive 1 mail per alert and I have set a delay of 7 min in order to cut down on possible fast up/down alerts.
Talking about fping, here is where I coped with more issues because Fast ping-checks does not work as I expected and I think that I do not understand completely.
I set ping_rrd_step
$config['ping_rrd_step'] = 60;
,updated the rrd files
./scripts/rrdstep.php -h all
and also the cron:
* * * * * librenms /opt/librenms/ping.php >> /dev/null 2>&1
Finally, I update the config.php:
$config['fping'] = "/usr/sbin/fping";
$config['fping_options']['timeout'] = 500;
$config['fping_options']['count']   = 5;
$config['fping_options']['interval'] = 500;

Above, there are described my fping timeout, count and interval settings as well as my ping check status step. With above settings, I suppose that I send 5 icmp packets to each device with an interval between packets of 500ms and the server waits 1 minute to check if the device is up/down. Then, it waits 7 minutes to send the alert due to the delay. However, I have a high amount of false alerts and I would like to know a few more things about fping to reduce them:
How often fping sends the burst of icmp packets (5 in my case)? I mean the time between the last icmp packet of a burst and the first one of the next one.
If one of these 5 icmp packets is unreachable, the device is considered unreachable? If not, when is considered unreachable?
Fping sends burst of icmp packets simultaneously to all devices?
I hope you can help me to solve these questions. I look forward to your answers.
Thank you,
Sebastia