Hi there, I'm having a weird issue with email alerts. I THINK I've set it up all right in the UI. I looks ok. But when I push "test transport" the button goes red for a moment then nothing. I've Set up a few alerts to use email and they all give the error "Could not issue recovery for rule 'Storage space warning' to transport 'mail' Error: Could not instantiate mail function."
The host can contact the mail server and SMTP isn't blocked. tcpdump shows no attempt to connect to port 25 on the remote server. It's just like nothing is happening. Upload of my conf screen for email.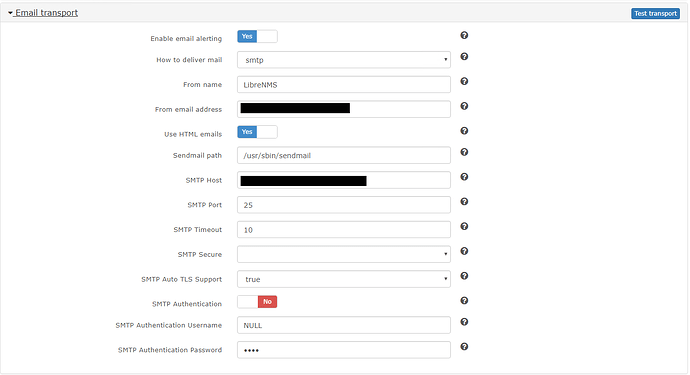 output of my validate.
====================================
| Component | Version |
| --- | --- |
| LibreNMS | 1.36-67-g30ca1e1 |
| DB Schema | 235 |
| PHP | 7.0.25-0ubuntu0.16.04.1 |
| MySQL | 10.0.33-MariaDB-0ubuntu0.16.04.1 |
| RRDTool | 1.5.5 |
| SNMP | NET-SNMP 5.7.3 |
| ==================================== | |
[OK] Database connection successful
[OK] Database schema correct
[WARN] Your local git contains modified files, this could prevent automatic updates.
[FIX] You can fix this with ./scripts/github-remove
Modified Files:
daily.sh