Hello there, I'm not 100% sure when the issue happened, but I believe it was the July 9 update that automatically took place earlier this AM. The web UI will no longer load (see screenshot).
I've also attached the relevant part of the librenms.log, as well as validate.php.
Also, we are running Ubuntu 18.04.4.
Please help, thanks so much!
~Laz
====================================
Component | Version
--------- | -------
LibreNMS  | 1.65-22-g98d6fc1ac
DB Schema | 2020_06_23_00522_alter_availability_perc_column (170)
PHP       | 7.2.24-0ubuntu0.18.04.6
Python    | 3.6.9
MySQL     | 5.7.30-0ubuntu0.18.04.1
RRDTool   | 1.7.0
SNMP      | NET-SNMP 5.7.3
====================================

[OK]    Composer Version: 1.10.8
[OK]    Dependencies up-to-date.
[OK]    Database connection successful
[OK]    Database schema correct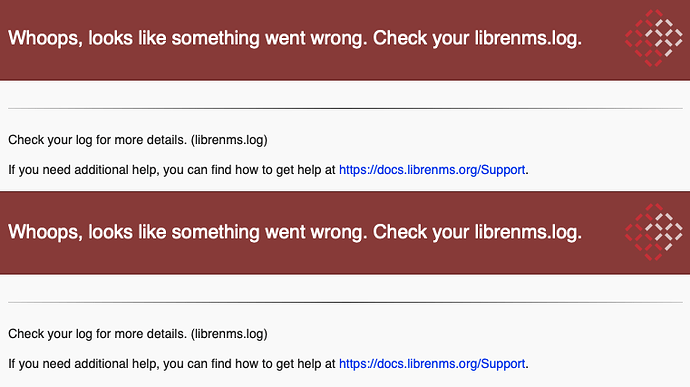 [2020-07-09 10:42:06] production.ERROR: CORS config `allowed_origins` should be an array {"exception":"[object] (RuntimeException(code: 0): CORS config `allowed_origins` should be an array at /opt/librenms/vendor/fruitcake/laravel-cors/src/CorsServiceProvider.php:64)
[stacktrace]
#0 /opt/librenms/vendor/fruitcake/laravel-cors/src/CorsServiceProvider.php(22): Fruitcake\\Cors\\CorsServiceProvider->corsOptions()
#1 /opt/librenms/vendor/laravel/framework/src/Illuminate/Container/Container.php(801): Fruitcake\\Cors\\CorsServiceProvider->Fruitcake\\Cors\\{closure}(Object(App\\Application), Array)
#2 /opt/librenms/vendor/laravel/framework/src/Illuminate/Container/Container.php(687): Illuminate\\Container\\Container->build(Object(Closure))
#3 /opt/librenms/vendor/laravel/framework/src/Illuminate/Foundation/Application.php(796): Illuminate\\Container\\Container->resolve('Asm89\\\\Stack\\\\Cor...', Array, true)
#4 /opt/librenms/vendor/laravel/framework/src/Illuminate/Container/Container.php(633): Illuminate\\Foundation\\Application->resolve('Asm89\\\\Stack\\\\Cor...', Array)
#5 /opt/librenms/vendor/laravel/framework/src/Illuminate/Foundation/Application.php(781): Illuminate\\Container\\Container->make('Asm89\\\\Stack\\\\Cor...', Array)
#6 /opt/librenms/app/Http/Middleware/HandleCors.php(58): Illuminate\\Foundation\\Application->make('Asm89\\\\Stack\\\\Cor...')
#7 [internal function]: App\\Http\\Middleware\\HandleCors->__construct(Object(App\\Application))
#8 /opt/librenms/vendor/laravel/framework/src/Illuminate/Container/Container.php(845): ReflectionClass->newInstanceArgs(Array)
#9 /opt/librenms/vendor/laravel/framework/src/Illuminate/Container/Container.php(687): Illuminate\\Container\\Container->build('App\\\\Http\\\\Middle...')
#10 /opt/librenms/vendor/laravel/framework/src/Illuminate/Foundation/Application.php(796): Illuminate\\Container\\Container->resolve('App\\\\Http\\\\Middle...', Array, true)
#11 /opt/librenms/vendor/laravel/framework/src/Illuminate/Container/Container.php(633): Illuminate\\Foundation\\Application->resolve('App\\\\Http\\\\Middle...', Array)
#12 /opt/librenms/vendor/laravel/framework/src/Illuminate/Foundation/Application.php(781): Illuminate\\Container\\Container->make('App\\\\Http\\\\Middle...', Array)
#13 /opt/librenms/vendor/laravel/framework/src/Illuminate/Pipeline/Pipeline.php(156): Illuminate\\Foundation\\Application->make('App\\\\Http\\\\Middle...')
#14 /opt/librenms/vendor/fideloper/proxy/src/TrustProxies.php(57): Illuminate\\Pipeline\\Pipeline->Illuminate\\Pipeline\\{closure}(Object(Illuminate\\Http\\Request))
#15 /opt/librenms/vendor/laravel/framework/src/Illuminate/Pipeline/Pipeline.php(167): Fideloper\\Proxy\\TrustProxies->handle(Object(Illuminate\\Http\\Request), Object(Closure))
#16 /opt/librenms/vendor/laravel/framework/src/Illuminate/Pipeline/Pipeline.php(103): Illuminate\\Pipeline\\Pipeline->Illuminate\\Pipeline\\{closure}(Object(Illuminate\\Http\\Request))
#17 /opt/librenms/vendor/laravel/framework/src/Illuminate/Foundation/Http/Kernel.php(140): Illuminate\\Pipeline\\Pipeline->then(Object(Closure))
#18 /opt/librenms/vendor/laravel/framework/src/Illuminate/Foundation/Http/Kernel.php(109): Illuminate\\Foundation\\Http\\Kernel->sendRequestThroughRouter(Object(Illuminate\\Http\\Request))
#19 /opt/librenms/html/index.php(53): Illuminate\\Foundation\\Http\\Kernel->handle(Object(Illuminate\\Http\\Request))
#20 {main}
"} 
[2020-07-09 10:42:06] production.ERROR: CORS config `allowed_origins` should be an array {"exception":"[object] (RuntimeException(code: 0): CORS config `allowed_origins` should be an array at /opt/librenms/vendor/fruitcake/laravel-cors/src/CorsServiceProvider.php:64)
[stacktrace]
#0 /opt/librenms/vendor/fruitcake/laravel-cors/src/CorsServiceProvider.php(22): Fruitcake\\Cors\\CorsServiceProvider->corsOptions()
#1 /opt/librenms/vendor/laravel/framework/src/Illuminate/Container/Container.php(801): Fruitcake\\Cors\\CorsServiceProvider->Fruitcake\\Cors\\{closure}(Object(App\\Application), Array)
#2 /opt/librenms/vendor/laravel/framework/src/Illuminate/Container/Container.php(687): Illuminate\\Container\\Container->build(Object(Closure))
#3 /opt/librenms/vendor/laravel/framework/src/Illuminate/Foundation/Application.php(796): Illuminate\\Container\\Container->resolve('Asm89\\\\Stack\\\\Cor...', Array, true)
#4 /opt/librenms/vendor/laravel/framework/src/Illuminate/Container/Container.php(633): Illuminate\\Foundation\\Application->resolve('Asm89\\\\Stack\\\\Cor...', Array)
#5 /opt/librenms/vendor/laravel/framework/src/Illuminate/Foundation/Application.php(781): Illuminate\\Container\\Container->make('Asm89\\\\Stack\\\\Cor...', Array)
#6 /opt/librenms/app/Http/Middleware/HandleCors.php(58): Illuminate\\Foundation\\Application->make('Asm89\\\\Stack\\\\Cor...')
#7 [internal function]: App\\Http\\Middleware\\HandleCors->__construct(Object(App\\Application))
#8 /opt/librenms/vendor/laravel/framework/src/Illuminate/Container/Container.php(845): ReflectionClass->newInstanceArgs(Array)
#9 /opt/librenms/vendor/laravel/framework/src/Illuminate/Container/Container.php(687): Illuminate\\Container\\Container->build('App\\\\Http\\\\Middle...')
#10 /opt/librenms/vendor/laravel/framework/src/Illuminate/Foundation/Application.php(796): Illuminate\\Container\\Container->resolve('App\\\\Http\\\\Middle...', Array, true)
#11 /opt/librenms/vendor/laravel/framework/src/Illuminate/Container/Container.php(633): Illuminate\\Foundation\\Application->resolve('App\\\\Http\\\\Middle...', Array)
#12 /opt/librenms/vendor/laravel/framework/src/Illuminate/Foundation/Application.php(781): Illuminate\\Container\\Container->make('App\\\\Http\\\\Middle...', Array)
#13 /opt/librenms/vendor/laravel/framework/src/Illuminate/Foundation/Http/Kernel.php(204): Illuminate\\Foundation\\Application->make('App\\\\Http\\\\Middle...')
#14 /opt/librenms/vendor/laravel/framework/src/Illuminate/Foundation/Http/Kernel.php(178): Illuminate\\Foundation\\Http\\Kernel->terminateMiddleware(Object(Illuminate\\Http\\Request), Object(Illuminate\\Http\\Response))
#15 /opt/librenms/html/index.php(58): Illuminate\\Foundation\\Http\\Kernel->terminate(Object(Illuminate\\Http\\Request), Object(Illuminate\\Http\\Response))
#16 {main}
"}