Hello experts,
Happy new year! I'm a newbie at libreNMS.
I'm currently using the VM version of installer and there are a couple issues I ran into.
I initially installed from scratch by following instructions on the website and same issues appeared and I thought I didn't configured properly so discarded and used VM version from the website.
At first launch, new VM image setup was working fine and showing all the graphs, devices and pulling all the data but today after running validate and daily scripts it started showing no results on lists and no images on the device summary.
I confirm that host, php, db on the same timezone.

I don't see much pointer on the librenms, php or db logs to pinpoint the issue/issues.
Can you advise how to resolve or point me to the right direction, please?
output of validate

./discovery.php -h HOSTNAME -d | ./pbin.sh
./poller.php -h HOSTNAME -r -f -d | ./pbin.sh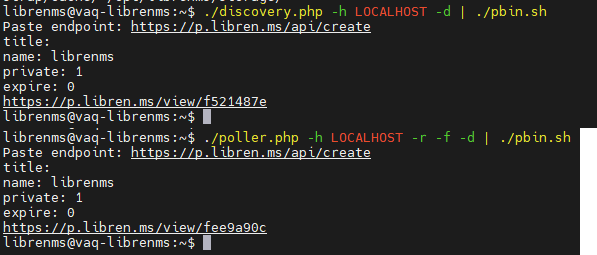 device unpolled warnings showing up almost everytime when I visit the webpage.

No device or item is showing up in the lists, but I can access the devices from manage devices.

Another weird thing with the daily.sh script is that, started producing h letter randomly. and affecting the log write for daily.sh and I can see h letter on the dashboard page…

I didn't modify the config.php or other files other than changing the timezone on systems and it was working fine initially. I'm at lost at what I'm doing wrong here.
Any input is appreciated!
Thank you,