When I try to view the ports of the switch (Via device/ports), I can´t see any ports.


However, When I go to settings for the device and take a look at ports I see them.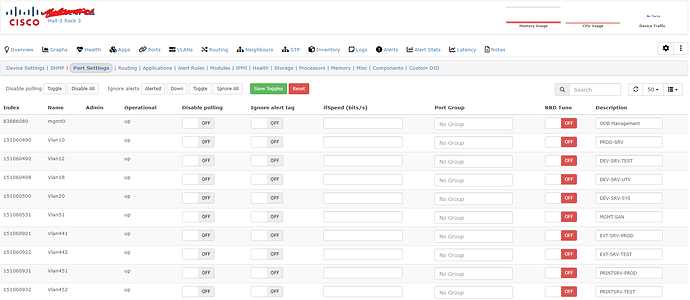 From what I can tell, all looks fine with validate and snmp-walk. I doesn´t matter what browser Im using.
Output from validate.php
====================================
| Component | Version |
| --- | --- |
| LibreNMS | 22.9.0 |
| DB Schema | 2022_09_03_091314_update_ports_adsl_table_with_defaults (246) |
| PHP | 8.1.10 |
| Python | 3.8.10 |
| Database | MariaDB 10.3.34-MariaDB-0ubuntu0.20.04.1 |
| RRDTool | 1.7.2 |
| SNMP | 5.8 |
| ==================================== | |
[OK] Composer Version: 2.4.2
[OK] Dependencies up-to-date.
[OK] Database connection successful
[OK] Database Schema is current
[OK] SQL Server meets minimum requirements
[OK] lower_case_table_names is enabled
[OK] MySQL engine is optimal
[OK]
[OK] Database schema correct
[OK] MySQl and PHP time match
[OK] Active pollers found
[OK] Dispatcher Service not detected
[OK] Locks are functional
[OK] Python poller wrapper is polling
[OK] Redis is unavailable
[OK] rrd_dir is writable
[OK] rrdtool version ok
Output from discovery: https://p.libren.ms/view/d2e89dcb
Output from poller: https://p.libren.ms/view/90caacd7
Worth mentioning, I deleted the device and then added it again. In the beginning, I can see the ports, But then they disappear since they loose their port description when its polled.