Hello.
I think I found a bug in the maintenance window scheduler of the current LibreNMS version.
Short description:
When I set a recurring maintenance window for a device group of ICMP monitored devices (ping), the devices from that group constantly show up as if the maintenance window is currently ongoing, but it is not.
Details:
Here is screenshot of my maintenance window settings how I set them…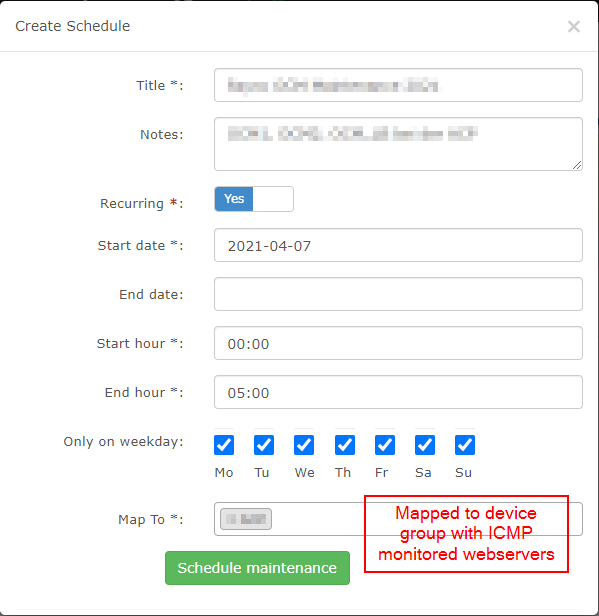 … it then shows with the status "SET" in the list of scheduled maintenance windows, which is fine.
Problem: The availability map on the dashboard showing the devices constantly greyed out as if they are under maintenance, but it is currently around 8 o'clock in the morning. The maint. window should last from midnight until 05:00.
The device also has the wrench symbol next its name in the details, indicating the ongoing maintenance.
Here the output of the validate.php:
[email protected]:~$ ./validate.php
====================================
Component | Version
--------- | -------
LibreNMS | 21.3.0-71-gecb87d967
DB Schema | 2021_02_09_122930_migrate_to_utf8mb4 (205)
PHP | 7.4.3
Python | 3.8.5
MySQL | 10.3.25-MariaDB-0ubuntu0.20.04.1
RRDTool | 1.7.2
SNMP | NET-SNMP 5.8
====================================
[OK]    Composer Version: 2.0.12
[OK]    Dependencies up-to-date.
[OK]    Database connection successful
[OK]    Database schema correct