Hi. I used the downloadable VM image (CentOS) to build my LibreNMS.
I upgraded all CentOS packages, ran through all the relevant items for LibreNMS to get a Linux client on there, and it's working fine for the most part. That was all a couple of days ago and I have been monitoring it ever since.
I got an error today on the web interface with: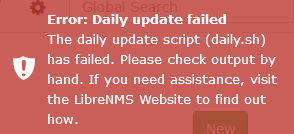 I log into the machine, ran manually via root and it works fine:
ll /opt/librenms/daily.sh
-rwxrwxr-x 1 librenms librenms 8868 Sep 2 02:37 /opt/librenms/daily.sh
/opt/librenms/daily.sh
Re-running /opt/librenms/daily.sh as librenms user
Updating to latest release OK
Updating SQL-Schema OK
Updating submodules OK
Cleaning up DB OK
Fetching notifications OK
Caching PeeringDB data OK
My validate is:
./validate.php
====================================
| Component | Version |
| --- | --- |
| LibreNMS | 1.31.03 |
| DB Schema | 205 |
| PHP | 7.0.22 |
| MySQL | 5.5.52-MariaDB |
| RRDTool | 1.4.8 |
| SNMP | NET-SNMP 5.7.2 |
| ==================================== | |
[OK] Database connection successful
[OK] Database schema correct
[WARN] Your local git branch is not master, this will prevent automatic updates.
Any ideas what I need to do to get rid of that error and allow for automatic updates?
Thanks.