Whilst this months release isn't as big as Feb's, it's still a whopper

You can see our change log here.
Below is a summary of the big changes for you to feast on…
Two new alert transports have been aded, you can now send your alerts to a Syslog server to integrate into other systems such as ELK stacks. A Telegram transport has also been added.

Graphite support A while ago we added the ability to ship your data to InfluxDB and now with a big thanks to wrf42 we have Graphite support.

Pastebin service - Accessible via https://p.libren.ms/ and we have included a basic client which is available in your install called pbin.sh, this means if you want to share the output of anything from your install then you can do this by piping the output to this script, using validate as an example: ./validate.php | ./pbin.sh will give you a link to share which contains the info from running validate.

More Oxidized support, you can now see the full status of your oxidized nodes direct from the WebUI: Overview → Tools → Oxidized. This also includes a basic search facility as well.

PeeringDB Integration. If you have a peering db entry for you AS then you can now see which exchanges you are connected to along with which peers you are and aren't connected to.

More application support. Thanks to VVelox we now have some more application support available for both snmp and the check_mk agent - including whacky ones like monitoring NVidia GPU's!
Bugs
Here is a list of bugs present in this release. These are fixed in master.
Here's our last months pulse data from GitHub:

And our GitHub stats: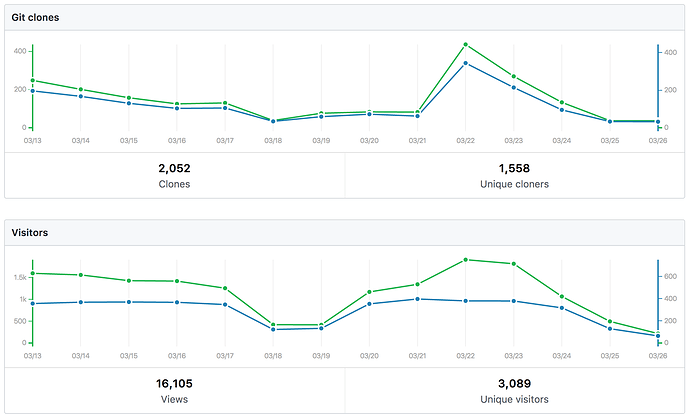 We're slowly getting to the bottom of all of the issues, we are now just under 70. We'll continue to whittle this down and then we will hopefully have more time to spend on feature requests and the all important version 2 of the LibreNMS webui.
As always, a big thank you to those who've contributed over the last month, LibreNMS wouldn't be what it is with out you all.
Until next month, happy monitoring.