So going on from a quiet month in September to a huge one this month which is amazing to see. We've had a huge increase in contributions from users which is lovely, with limited time amongst some of the core maintainers it's been brilliant to see others stepping up to the plate to help keep the pace going.
You can see our change log here.
Here's a quick summary of what happened this month:
Non-snmp devices now supported (ICMP only)
You can now validate your install from the WebUI.
We've had a docs refactor happen to try and make information easier to access - along with lots of doc updates to improve the quality.
Over 30 new devices or improvements to device support.
More alert rules have been added to the available pre-made collection.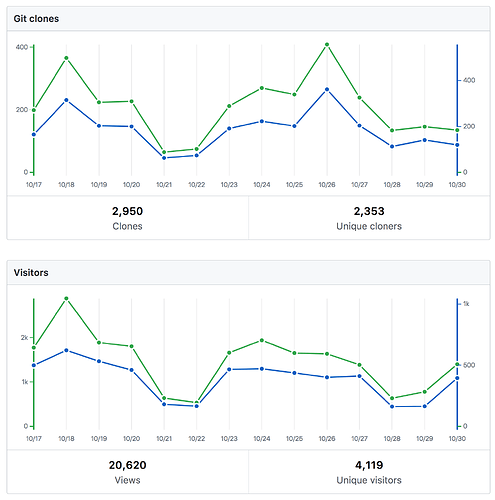 The number of clones of the repository and views has increased quite a lot.
This month has also seen us continue our sponsorship for Patch:Manchester alongside us taking part in the hacktoberfest that has been running for October.
As always, we'd like to thank everyone who has taken time to contribute to the project.
Until next month, happy monitoring.