For this months release, we put the cut off date for commits as the 20th of December so that we know we had a few days where those still working before Xmas holidays would have been able to feed back about any bugs introduced. This means we've missed out on a few things like the table refresh which gives all our pages a bit more consistence when showing data in tables and also a new widget to show health info for devices.
You can see our change log here
Here's a quick summary of what happened this month:
New support for Entity state polling for devices which support it
Manage bills using the new CLI script
Host dependency support for alerting
More code has been moved to classes (Alert transports)
Stacked graphs has arrived
Additional API routes for Wireless sensors + Renaming devices
The usual images we show which has the number of authors can't be shown as GitHub only provides the last month which means we have lots of commits that aren't part of this release. However the usual stats for how the GitHub repo is doing is still interesting. Clones and visits are down but we'd expect that seeing as we've had around 1 week where a lot of people are on holiday.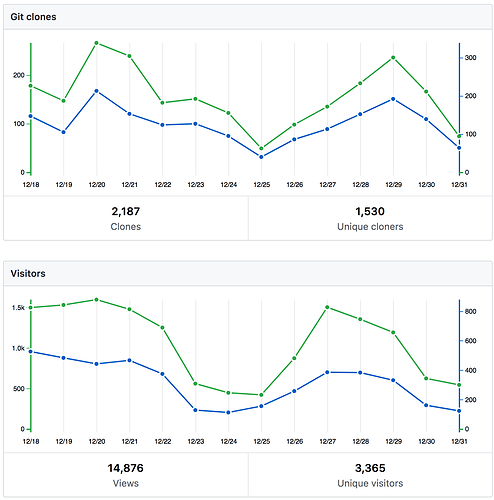 As always, thanks for using LibreNMS and have an amazing 2018.