./validate.php 
====================================
Component | Version
--------- | -------
LibreNMS  | 22.3.0-24-g75ba74f
DB Schema | 2022_02_03_164059_increase_auth_id_length (235)
PHP       | 7.3.33
Python    | 3.6.8
MySQL     | 10.5.15-MariaDB
RRDTool   | 1.4.8
SNMP      | 5.7.2
====================================

[OK]    Composer Version: 2.3.2
[OK]    Dependencies up-to-date.
[OK]    Database connection successful
[OK]    Database schema correct

Discovery
https://p.libren.ms/view/9a2356c9
Poller
https://p.libren.ms/view/f96f061f
Hello Community,
I am just wondering if someone has the work around for the following problem:
I just put my Cisco WLC 4200 to start monitoring, and so far it shows me everything that I wanted to see with some exceptions.
The Connected APs graphs are broken as shown in the image bellow:

And when I click on the menu Access Points:
It brings me all the AP's as expected but the graphs are also broken
And when I hover on the AP name it actually show me some graphs: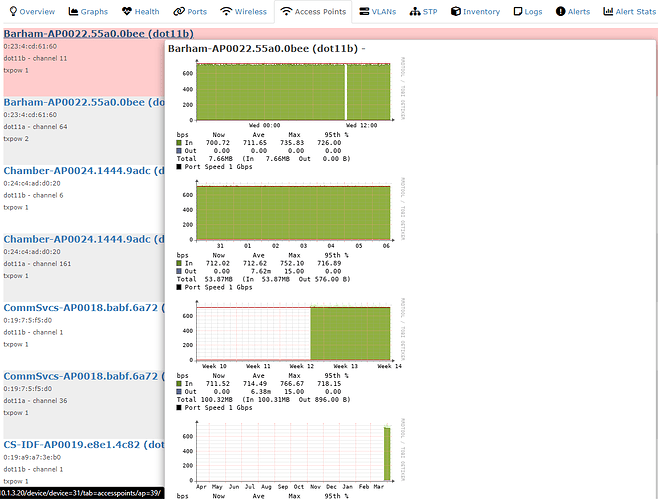 Is there something that I can do to get it fixed?
Thanks in advance!