Hello, i have troubles with huawei server RH2288H V3, i added this server, set up SNMP community but it just cant work, graphs not working and values are unreal (like it showing 100% cpu load but in reality cpu has 0%…)
Steps to reproduce an issue. => add host in GUI LibreNMS, config SNMP community, perform auto discovery, graphs not working → error reading graph, values not look correct.
The output of ./validate.php =>
[email protected]:/opt/librenms# ./validate.php
====================================
Component | Version
--------- | -------
LibreNMS | 1.60-80-gf8c43ee90
DB Schema | 2020_02_10_223323_create_alert_location_map_table (159)
PHP | 7.2.24-0ubuntu0.18.04.3
MySQL | 10.1.44-MariaDB-0ubuntu0.18.04.1
RRDTool | 1.7.0
SNMP | NET-SNMP 5.7.3
====================================
[OK] Composer Version: 1.9.3
[OK] Dependencies up-to-date.
[OK] Database connection successful
[OK] Database schema correct
[WARN] Your local git contains modified files, this could prevent automatic updates.
[FIX]:
You can fix this with ./scripts/github-remove
Modified Files:
config/hashing.php
config/logging.php
config/tinker.php
[email protected]:/opt/librenms#
If it's an issue with the WebUI then please consider including a screenshot and the browser version you are using.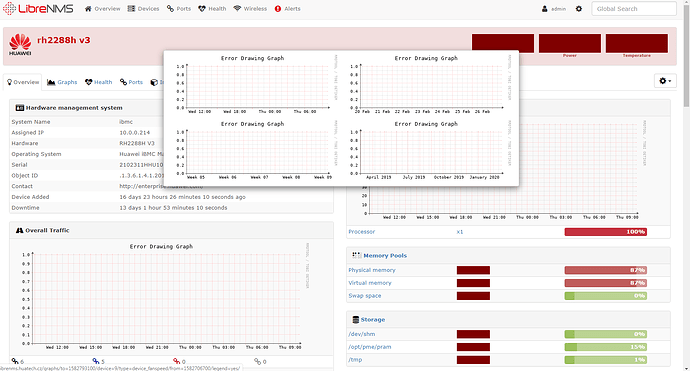 If you are having troubles with discovery/polling include the pastebin output of:
./discovery.php -h HOSTNAME -d | ./pbin.sh => //p.libren.ms/view/38aff802
./poller.php -h HOSTNAME -r -f -d | ./pbin.sh => //p.libren.ms/view/39058d3d

Idk what i should do.
I also have question connected with auto discovery, how it works in SNMP case when i dont import MIB to LibreNMS ? in case of huawei switch everything works and there is no need for importing MIB, how it is possible ? where are the informations about meaning the values (MIB) it is possible that NMS can download MIB from device ? or while autodiscovering LibreNMS use some internal default database of MIBS ?
thank you very much
BR
Filip Směšný