====================================
| Component | Version |
| --- | --- |
| LibreNMS | 1.41-6-g3269183 |
| DB Schema | 253 |
| PHP | 7.2.1 |
| MySQL | 10.2.12-MariaDB |
| RRDTool | 1.6.0 |
| SNMP | NET-SNMP 5.7.2 |
| ==================================== | |
[OK] Composer Version: 1.6.5
[OK] Dependencies up-to-date.
[OK] Database connection successful
[OK] Database schema correct
[FAIL] You have no timezone set for php.
[FIX] PHP: Runtime Configuration - Manual
[WARN] Some devices have not been polled in the last 5 minutes. You may have performance issues.
[FIX] Check your poll log and see: Performance - LibreNMS Docs
Devices:
[ a lot of devices…]
and 16 more…
[FAIL] Some devices have not completed their polling run in 5 minutes, this will create gaps in data.
[FIX] Check your poll log and see: Performance - LibreNMS Docs
Devices:
[more devices…]
==========================================
We migrated recently from the 'old' librems service to a new one. Polling for certain devices is super slow now, which was not a problem with old service - or even cron-based poller.
It looks like mostly Cisco Nexus devices are affected, but this could be because they have got the most interfaces/items to poll.
Some stats from the UI: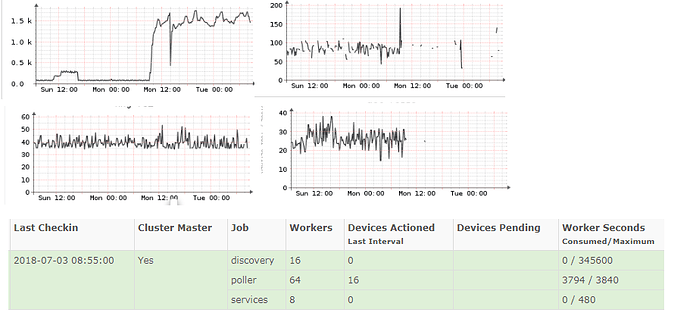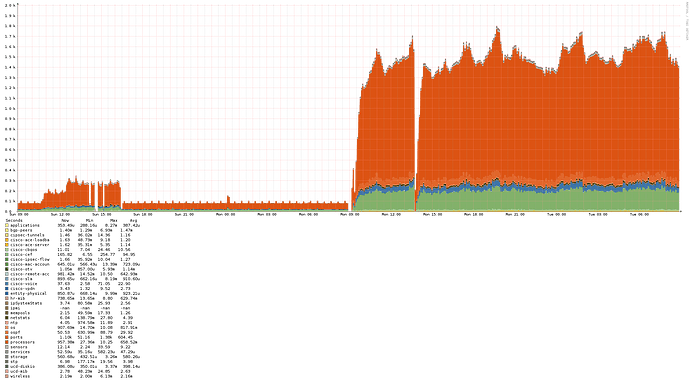 Service config:
$config['service_poller_workers'] = 64;
$config['service_services_workers'] = 8;
$config['service_discovery_workers'] = 16;
$config['service_poller_frequency'] = 60;
$config['service_services_frequency'] = 60;
$config['service_discovery_frequency'] = 21600;
$config['service_billing_frequency'] = 300;
$config['service_billing_calculate_frequency'] = 60;
$config['service_poller_down_retry'] = 30;
$config['service_loglevel'] = 'DEBUG';
$config['service_update_frequency'] = 864000000;
No errors or obvious problematic messages in service logs.
There are 106 devices in total, no distributed polling. We set new poller service with the same amount of threads (64) as the old one. 1 minute polling interval is what we use.