Hi All,
I have to reluctantly bring up graph spikes again, I know it's a challenge, but they are causing me such issues I need to find a resolution and am prepared to dig deep.
TL;DR appears high latency causes it, some minor poller gaps, accumulated missed polling data doesn't account for the spikes, happens across various Cisco and Palo devices at these remote sites.
I'm seeing graphs spikes which generally appear after brief polling gaps which I suspect are from latency over a satellite link. I've tried all the usual things but these particular latent sites continue to evade my attempts. If anyone is able to assist me in identifying relevant tests and debugging data so we can try and find a cause/resolution - I'm ready to go!
Following this: FAQ - LibreNMS Docs, a few things which I have determined:
I don't see spikes on low latency links.
Normal traffic on any port on the spiking devices never exceeds 15Mbit/s - so the spike being the traffic accumulated since the last successful poll doesn't explain the spikes.
rrdtune has been tried several ways, and regardless the spikes never exceed the interface speed - they are often around half of it.
I see the spikes sometimes in packet counters, not just traffic - and they are equally as unrealistic numbers.
I see traffic spikes sometimes on Cisco VLAN interfaces, which don't have traditional traffic flow and sit constant at 4Kbit/s - again, it's not accumulated counters.
removespikes.php v1.1 removes them if I get to them in time - if they roll down to more historical timeframes, I seem stuck with them. Each day I pull up my mini graphs page and the CLI and get busy.
For some context - this is the typical traffic flowing around these sites:

Polling:
To me it seems related to some polling element/interruption and not counter overflows or bogus device SNMP implementations. Poller debug output is here: poller - LibreNMS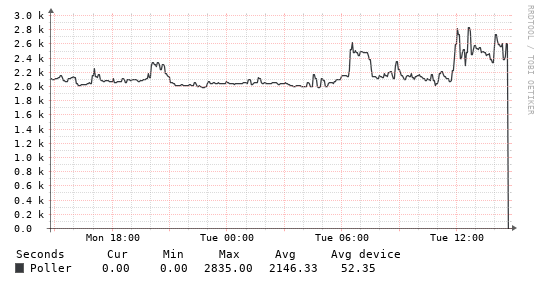 It will often affect connected switches on the opposing interface, but sometimes random other devices at the same site (different Cisco switches, Palo Alto firewalls etc.).
On the main offender, this is the poller performance:

Effects:
A typical spike looks like this:

Here is a graph that shows the gaps where spikes often appear immediately after. In this case it spiked on the first one (removed), but that interface didn't spike on the second one, though there are no gaps or spikes in the packets graphs:
The second gap has caused many some other interfaces on the switch to spike:

Workarounds:
I use removespikes.php v1.1 (not v1.0 shipped with LibreNMS as I'm unable to get that to even run - and either stdddev or variance will find and remove the graphs:
~$ php /tmp/removespikes.php -R=/opt/librenms/rrd/xxxxx/port-id267.rrd -M=stddev --backup
NOTE: Using RRDtool Version 1.7.0
NOTE: Creating XML file '/tmp/port-id267.dump.1718055493' from '/opt/librenms/rrd/xxxxx/port-id267.rrd'
NOTE: RRDfile '/opt/librenms/rrd/xxxxx/port-id267.rrd' backed up to '/tmp/port-id267.backup.1718055493.rrd'
NOTE: Searching for Spikes in XML file '/tmp/port-id267.dump.1718055493'
NOTE: Backing Up '/opt/librenms/rrd/xxxxx/port-id267.rrd' to '/tmp/port-id267.rrd.1718055493'
NOTE: Re-Importing '/tmp/port-id267.dump.1718055493' to '/opt/librenms/rrd/xxxxx/port-id267.rrd'

Here's a before an after a port channel between a Cisco and Palo:

… stddev spike removal:
Sometimes a gap is before the spike, but that's not consistent across all interfaces.
Other Investigations:
This became an issue when the site moved to Satellite from cellular, but also the movement of a cisco 3560 in to the flow of all traffic which was previously on the edge of the network. It is fully patched to recommended release, but it did seem odd and made me find this: Weird spikes in network traffic on cisco 3650 and 3850 switches - #19 by rmahurin
~$ ./validate.php
====================================
Component | Version
--------- | -------
LibreNMS  | 21.5.1-32-g20c44b85c
DB Schema | 2021_06_11_084830_slas_add_rtt_field (210)
PHP       | 7.3.28-2+ubuntu18.04.1+deb.sury.org+1
Python    | 3.6.9
MySQL     | 10.5.10-MariaDB-1:10.5.10+maria~bionic
RRDTool   | 1.7.0
SNMP      | NET-SNMP 5.7.3
====================================

[OK]    Composer Version: 2.1.3
[OK]    Dependencies up-to-date.
[OK]    Database connection successful
[OK]    Database schema correct

Any tips, similar stories, or beer appreciated!